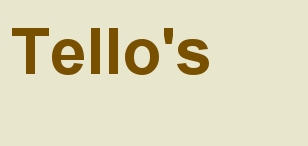 Welcome to Tello's Tailors and Menswear, where service is our number one priority. We invite you to visit our store where you will find ready made clothing for every fit and every need. In our custom tailoring department, we cater to men's suit and shirt needs for all including the non-standard fit. Our garments are personally hand-tailored and professionally fitted to your personal taste. We guarantee our product and will strive for 100% customer satisfaction. In addition,  our alterations speak for themselves with our three generations of repeat customers coming in and receiving the best service and best fit for all of their clothing needs. At Tello's we make sure that you, our customer, are pleased with the quality and service that we provide.

T A I L O R S 

& M E N S W E A R


909-883-1985

760 E. Highland Avenue

San Bernardino, CA. 92404



MAKE AN APPOINTMENT WITH US!

In an effort to keep our community and staff safe during the COVID-19 pandemic, we are open by appointment only, until further notice. Please call 909-883-1985 or use the contact link provided below so that we may accommodate your request. Thank you for your valued business.